Dear SPILers,

My name is Svea Drose and I am the President of SPIL's 43rd h.t. Board! This will be my third year at Leiden University as an IRO student, however, in the coming year I will follow my minor in European Union Studies. I moved to The Netherlands from Germany and have been absolutely loving my time here exploring Dutch culture as well as the country with the two mesmerizing cities of Leiden and Den Haag.

Besides being busy with my studies and my work at the association you will find me making use of my Museumkaart or spending time with friends at any of the many cute cafés. Current favourites are the one in Hortus Botanicus, Paco Ciao, and Pistache. Furthermore, I thrive on staying active and am up for every adventure which I do by spending lots of time in nature, often hiking. While this country with most of its landscape being below sea level is not ideal for such, it definitely makes up for it with its proximity to the sea and beautiful beaches.
I have always admired what our wonderful association does for the studies of political science and its students! Therefore, I am extremely honoured to be able to contribute to this with my board. The position of President within it is a more glorified way of saying that I am making sure the board runs smoothly and will have an agenda filled with plenty of meetings.

One of the things I am most looking forward to this year is getting to know new and old members of the association as well as all other students!
Therefore, I am always up for a chat, so just talk to me if you see me around uni or at any of our activities. Also make sure to swing by our common rooms to hang out, meet others and grab a cup of coffee or tea.
See you soon!
Contact: president@spilplaats.nl
Dear SPILers,
My name is Noor and I am a 20-year old International Politics student. This year I will be the Secretary of SPIL. Next to my board year I am following a minor in Islam Studies. I was raised and still live in The Hague, so you can call me a real the Hague local. I love going out for dinner and finding new spots to eat at. Also, I am a big enthusiast of Nijntje and other cute stuff. So if any store releases a new Nijntje collection, please call me.
I have been a dedicated member of SPIL since my first day at university. I have been a part of various committees and was a regular visitor of the common room. My love for this beautiful association only grew with the years. I have so many happy memories with SPIL, going on trips, dressing up for the yearly gala and meeting the nicest people. SPIL makes my time at university really special. I hope I can meet many of you during the upcoming year and can contribute to many of your university memories! You can always send me an email. See you at the next SPIL activity!
Contact: secretary@spilplaats.nl
My name is Kasya Hilhorst and I am the 43rd treasurer of SPIL! I am 21 years old and am from the beautiful Zutphen, though nowadays I live in The Hague (which is also decently beautiful). I am a third year IRO student and during this busy year I will be putting off my bachelor thesis to focus simply on my minor in journalism and, of course, on SPIL.
In my free time I enjoy watching movies, reading, and going to concerts. If you can't reach me, I am probably ignoring my phone in the gym, working out is my favourite way to relax!
I was first introduced to SPIL during the 2022 Long Trip to Thailand. On this trip I was very excited that I got the opportunity to learn so much about the country's politics and culture through our visits with many different organisations and people. More importantly, though, I got to hang out with other students with a similar interest in politics and made great friends! After this trip, I decided to get more active at SPIL, which led to me now joining this year's board!
I am very excited for the upcoming year and I hope to meet you all in the common room and during all the upcoming activities!
Contact: treasurer@spilplaats.nl
Commissioner Education and Politics
Dear SPIL'ers,
My name is Frederika and I'm a 19 year-old IRO student. This year, I'll be very busy with keeping up with university work as well as being Commissioner Education and Politics for SPIL.
I'm half Dutch and half Portuguese, but grew up in Portugal. So I only moved to the Netherlands last year when I started IRO. At the beginning of the year, I was quite overwhelmed by everything, so I didn't join SPIL right from the start. However, I had the opportunity to join the amazing introduction committee and it was a lot of fun planning all the events – especially the Freshman Weekend!
In fact, I liked it so much that I decided to apply for the board! I'm really excited for this year, for meeting SPIL'ers and for organising amazing activities with the committees I'll be overseeing.
Contact: educationpolitics@spilplaats.nl
Commissioner Global Relations
My name is Salomé and I'm a second-year IRO student. I come from a beautifully messy country called Belgium but part of my family is Italian and I lived in Paraguay before starting studying at Leiden University.
I've been working in a whisky bar since the start of my first year and I am absolutely passionate about food, coffee and cocktails. So if you want to have some hot debates on whether pinapple should be allowed on pizza or not, you're always welcome in the SPIL common room around a cup of coffee, tea or mate (I am totally addicted to mate and tereré but I'll be happy to share my personal reserve of yerba I brought from Paraguay with you).
Another hobby of mine is travelling. I backpacked in several countries of Latin America alone before starting IRO and last year I participated in almost all the trips that were possible for IRO and now I have to most fun position in the board (in my opinion) as I supervise all the SPIL trips.
See you at some SPIL events, borrels or trips (or just in the common room) to passionately discuss food, travels or anything else you'd like!
Contact: globalrelations@spilplaats.nl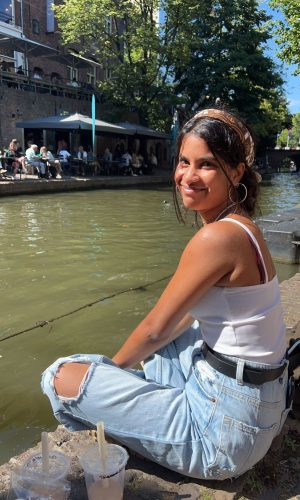 Commissioner Internal Relations
Hi SPILers,
My name is Ruchi and I am 21 years old and I am from The Netherlands. I grew up in Hengelo, but I now live in Leiden with five other roommates. This year I will start my second year of IRO after a little excursion to the law faculty.
During my free time I love to go to concerts, read books (so please ask for my Goodreads if you are interested) and I also like to make or upcycle clothes on my sewing machine.
I joined SPIL during my first year of university, which was in 2020. Despite most of the activities being online, I did meet a bunch of lovely people and decided to stick around. I was part of the Excursions Committee for two years and last year I was in the Yearbook Committee. I believe that SPIL is a great way to balance the practical side of your studies and the social part of your student life!
I am very excited for this year and to meet you all. Hopefully I will see you around at the activities or in the common room!
Contact: internalrelations@spilplaats.nl
Commissioner External Relations
Hello there SPIL'ers,
My name is Gijs and I'm a 23 year old second year Politicologie student. I was born in the Netherlands, but moved to France when I was five. Now I've been back here in the Netherlands since 2017, and have lived close to (or in) Leiden ever since.
I joined SPIL during my EL CID, so in August of 2022. Since then, SPIL has been like second family to me, and I have made many new friends here. I also worked in the Dies, DEBAT, and SPIL Weekend committees, which I thouroughly enjoyed!
In my free time I enjoy playing football at RKVV Teylingen, watching it with Feyenoord, playing golf, and pretending I'm good at videogames. I also dabble in some journalism, by writing for a newsletter about esports called tl;dr.
I look forward to making some amazing promotion so our activities are well attended, but also to getting our members the best deals and parternships through our existing partners, and hopefully some new ones as well!
Contact: externalrelations@spilplaats.nl