Dear SPIL'ers 
How and where do I start? I have so much I would like to tell you guys but let's start with my introduction. 
Ok how can we make this interesting? So, my parents decided to name me Samara Ahmad, but I like when people choose their personal nicknames for me. I am 21 years old, half Pakistani and half German. Currently in my second year of IRO and struggling to not drown in my laziness. 
I joined SPIL in my first year without knowing that I am going to join the board this year. I started my SPIL journey by joining the introduction committee. A committee that is very close to my heart because it gave me hope of socializing and helping every struggling first year to enjoy a little bit of fun. Never thought that this small but mighty committee would encourage me to do more. In times of despair and hopelessness SPIL events were the only thing motivating me to not just terminate my studies. I met so many wonderful people in this journey through SPIL. 
I am a person with very different and contradicting characteristics. I love being open-minded and active but sometimes, as you guys might relate to me, I just want to lay down and stuff myself with snacks. I am a personality which everyone can relate to in some way, and I can relate to most of you.
I am also passionate about a lot of things like food, music, and emotions. I live everyday as the main character in my life. I experience things in my life very intensely and due to that my life never gets boring. I am also someone who sticks to principles. Principles are a very important part of my life because they make it fair and organized and last but not the least are my most favorite thing food and music to which both I can happily dance to and cry while doing it. Especially spicy food is my number one.
I am extremely happy to be the President for the 41st board of SPIL. I can't wait t fulfil my duty and meet amazing new people. Lets make SPIL a place for everyone and achieve the best we can!
Contact: president@spilplaats.nl
Hey SPILers! My name is Yesim Benli, 20 years old and a third year International Politics student. This year I will be following the minor conflict studies at UvA, in hopes to broaden my horizons about conflicts in the world. Although I was born in the Netherlands, my family is actually from Turkey which sparked my interest in politics outside the Netherlands.
Moving to Leiden was a big step for someone who lived in a small village in Brabant. But looking back now, it was the best decision I ever took. From day one, I met the most amazing people and immediately felt at home at an amazing association called SPIL. I was honored to be the chair of the introduction committee in my freshmen year and had a great time organizing activities for the first years. In my second year, my love for the PiP- congress committee began. I could never be more thankful the friendships I made through this. For this reason, I am very excited to oversee this committee and hope that this year can be even greater!
In my free time I like to play piano and listen to music, be creative, go shopping or have a drink with my friends. Let's hope that everything will go back to normal, so that we can organize as many activities as possible. I am very excited for what this year has to bring and I hope to share every memory with you!
Contact: secretary@spilplaats.nl
Dear SPIL'ler
Let me introduce myself to you                                                                                                     I look very much forward to this year, I hope you too                                                          The next treasurer of SPIL I will be                                                                                                I will be spending a lot of money just wait and see                                                               I'll take care of everything money related                                                                                To that this year I'll be very dedicated                                                                                    This year is going to be a busy year for me at school                                                         Still , to pass my political science courses would be cool                                              There are many other things that I do                                                                                 Such as being member of DAC and the owner of @partij_em to                            What's special to me you may like to know                                                                           My family, my dog, my friends and skiing in the snow                                                            I hope to be a well-respected treasurer this year                                                               And once in a while I drink an ice-cold beer                                                                       Well, our getting aquainted time is about to end                                                                 So even though shy, I'd like to be your new friend                                                         You're always welcome in our common room                                                                     You may always stop by no matter with whom
Contact: treasurer@spilplaats.nl
Commissioner Education and Politics
Hello! My name is Marit van der Heide and I am a second year political science student. I grew up in Leiden, so I know the city very well and of course I celebrate Leidsch Ontzet (the 3rd of October) every year. I like to spend my spare time with family and friends. This year I am the Commissioner of Education and Politics at SPIL. Therefore, I will be overseeing four committees: the Education Committee, the Excursions Committee, the Master Activities Committee and Stairs Affairs. Besides that, I am also taking care of the Book Sale. I hope that we can organize a lot of great events for you this year!
Contact: educationpolitics@spilplaats.nl
Commissioner Global Relations
Hi SPILers!
My name is Juni, I am a 22.5 years old, and I come from the beautiful land far up north called Norway.
Some people think I'm a Viking, which is true. I love traveling, and that's why I am extremely excited to be in charge of the trip committees this year! I am sure we'll manage to organise some sick SPIL trips, no matter the format Ms. Corona demands us to adopt. This is my third year in SPIL, and my third year studying IRO, which means a lot of people are asking me what I am going to do next year. I have no idea, so you don't have to ask me about that when we meet.
Whenever I'm not studying, I like to listen to podcasts, work out, go for walks around The Hague or drink beer outside, and I can't wait to do lots of nice SPIL activities this year!
Contact: globalrelations@spilplaats.nl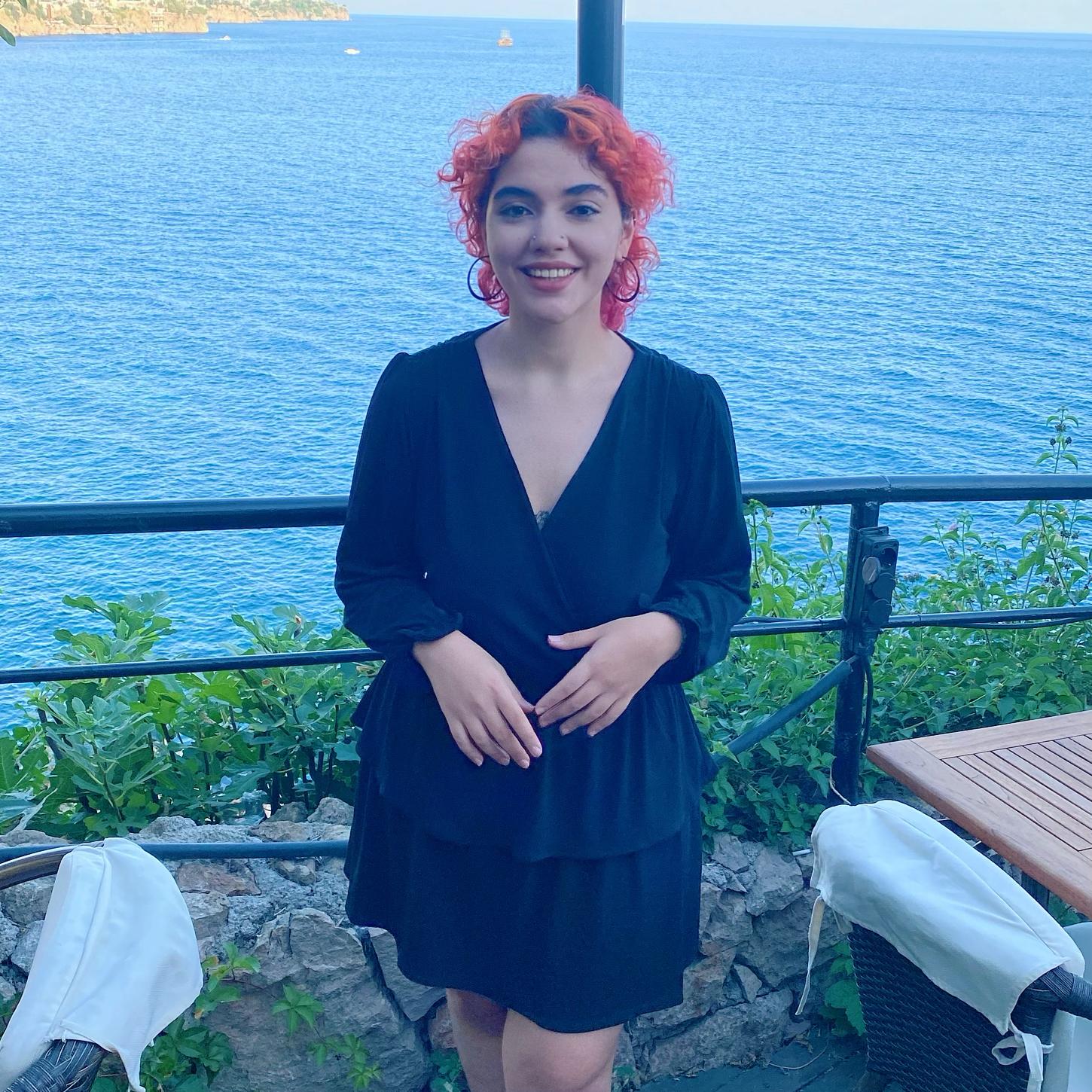 Commissioner Internal Relations
Hello everyone! My name is Ada and I am a 19 year old IRO second year. I was born and raised in Turkey. To those who know Turkey: I was born in Istanbul, then moved to Antalya, then Izmir. 
Last year, I was the chair of Festive Committee. During the COVID year, it was rather hard to navigate but I still had a ton of fun. SPIL made me feel connected to my university at a time where I couldn't even see my campus. I felt part of a community and applied for board to make sure everyone else gets to have that feeling.
Next to SPIL, I am obsessed with sitcoms, drinking basically anything from Starbucks, true crime videos on YouTube, singing, and spending hours scrolling through Tiktok on accident. I love spending time with my best friends, my parents, my cat, and my dog. I am so lucky to have them since they are both my source of entertainment but also my rock through tough times.
I am going to be the Commissioner Internal Affairs & Commissioner Festivities this year. I am so excited to go back to my roots and get back to writing after taking a break from it when I graduated high school. I am also excited to get back to Festive and finally organise the parties we wanted to so bad yet never had the chance to last year. I am looking forward to this year, and meeting all of you!
Contact: internalrelations@spilplaats.nl
Commissioner External Relations
Dear SPIL'er, 
My name is Josephine Bensdorp. I am 21 years old and currently in my fourth year of International Politics, writing my thesis. When I first arrived in Leiden I got to know SPIL via the Freshmen Weekend and the monthly borrels on Thursdays. Later on I became Chair of the Lustrum Committee, but COVID-19 made it quite hard to actually celebrate anything. For this year I hope that we get to celebrate SPIL and its 40th birthday. I will be the Commissioner of Acquisitions, Promotion and also Lustrum and hopefully we can have a great time!
Further on, I am one who isn't against having a drink from time to time, since I really like social events with friends! Other hobby's of mine are playing hockey, going to the record store and chatting hours away with friends and family. 
Hopefully, we can meet each other in real life this year during one of the many events we are planning to organise, so till then! 
Contact: externalrelations@spilplaats.nl