Visit to the British Embassy
On Thursday the 9th of June at 11:00 we will visit the British Embassy in The Hague. We will speak with Willem who works as the Economic and Social Policy officer at the Embassy. During the visit you will get to know more about the international relations of the United Kingdom, what it is like to work at an embassy and there will be room for questions.
Next week you will get the change to meet the 42nd Candidate Board at the New Board Borrel! It will take place at Scott's Tavern in Leiden, at 21:00hrs. Come and join us during this very special evening! 🤩💛
Join us for a chill afternoon at the beach. Feel free to bring snacks, board games or a book. Enjoy the (hopefully) nice weather and celebrate the end of the exams! We will meet in front of Miller's Beach in the Hague at 3 pm on the 27th of May 🏖🏖
Congress: Youth in Europe
Do you want to meet new, politically interested, fellow students? Would you love to network and learn from experts in the field of European security and climate politics? On May 30th & 31st SPIL organises a brand new congress, for which you can get tickets for via our linktree.
Want to have a unique educational experience? Make sure to join us for a boat lecture in Leiden. The guest will be announced soon!
Op 9 mei krijgen we de kans om met een aantal studenten de live-talkshow BEAU bij te wonen in Amsterdam. In deze talkshow bespreekt Beau van Erven Dorens bespreekt het laatste nieuws en duikt in onderwerpen die hem zelf opvallen, persoonlijk raken of dichtbij hem liggen. Omdat de talkshow in het Nederlands is, is dit event alleen toegankelijk voor Nederlandstalige studenten.
Are you down to have drinks at 4 different terraces in one afternoon? If your answer is yes, then be ready to start at 16:00 at the terrace Einstein on the 18th of April!
The CIROS Mediterranean-Middle East club and SPIL are collaborating for an event celebrating Ramadan and Iftar! If you are curious how different regions celebrate Ramadan during the dinner celebrating the end of the fasting day, join us! Everyone is welcome to join and bring (halal friendly) food.
Do you want to learn how to convince people in a discussion? Do you want to know how to give a good speech that blows everyone away? Do you want to find out how you can best put forward your point of view in a debate? Improve your public speaking skills in the public speaking workshop provided by LeidenMUN! Join the workshop in the university building at the Schouwburgstraat in A2.03 on 13 April from 15:00 to 16:00.
For SPIL's Friends and Family Day we would like to invite parents, siblings and friends to join us for a day full of activities. Through the planned activities, we hope to give an idea of what the student life looks like in the Netherlands. The day will involve a lecture, a workgroup, lunch, a city tour (in The Hague / Leiden) and a borrel. All activities will be offered in both Dutch and English. Friends and Family Day will take place on April 23rd and will end at 17.00hrs. See you there!
This years PiP-congress will be about the phenomenon of polarization to enable the debate about polarization in order to enforce the attempt for a solution, within the Netherlands and European Union including its democratic norms ad values. What are the causses of polarization? How will growing polarization effect Europe? Can increasing polarization lead to extreme violence, and even civil war? Is polarization actually resolvable?
Drinking Bingo: SPIL Edition
Come play a fun Drinking bingo with us at Hoender en Hop at 19:30 hours on the 17th of March. Winner gets a free beer! Furthermore, the first merchandise item will be revealed 🤩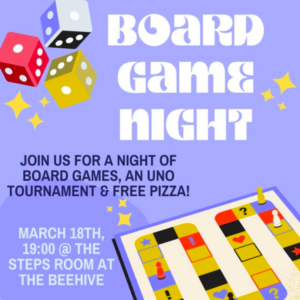 Need a break in your studies, or want to meet new people? Join us for a night full of board games on March 18th! There will not only be music and free pizza for all participants, but also a UNO-tournament.
Campagne voor de gemeenteraadsverkiezingen
Wil je meer weten over hoe campagnes werken in lokale vs. nationale politieke partijen? We gaan kijken naar verschillen en overeenkomsten! Dit evenement vindt plaats op 10 maart om 19.00 uur in het FSW-gebouw in Leiden, lokaal 0A28. Geen inschrijving nodig
On the 14th of march SPIL is having an interactive event with Q&A session with the Organisation for the Prohibition of Chemical Weapons. The OPCW wil inform us on their mission to prohibit chemical weapons
On March 7, SPIL is going to the world of wonders and fairytales: the EFTELING! The Efteling is the biggest theme park of The Netherlands and is filled with great variety of attractions and fairytales.
Next week the Long Trip Destination will be revealed during our monthly borrel in Leiden! Where will we go this summer? Come and find out at Café de Keyzer on the 3rd of March 🛫😍🍻
A visit to the American Embassy
On Friday the 11th of February we will have an online visit to the American Embassy. During our visit a speaker from the embassy will tell us more about the United States and its current relations with other countries. Afterwards there will be time to ask questions.
Get to know the festive committee & Board
We will start 2022 off by doing an online borrel where you will have a chance to get to know better our Festive Committee and the SPIL board! 🍻💛
Secret Santa Movie Screening
Christmas's coming up and SPIL would love to celebrate it with you! On the 2nd of December, the Festive Committee and Introduction Committee are inviting you to a Christmas movie screening. The event will take place in the Beehive Common room at 18:00. There will be snacks and lots of fun activities! 🎁💛 For those who want to, there will also be a Secret Santa, meaning that participants will exchange gift with a person picked randomly. T🎅🤶
Srebrenica Genocide Guest Lecture
Join us for a guest lecture held by Srebrenic Genocide survivor Alma Mustafic. Hear her story of survival and the horrible realities and consequences genocide can have on individuals within targeted communities.
Study Groups (every block)
SPIL is inviting you to their annual Study Groups! This is a great opportunity for all freshmen students to prepare themselves before the exams. You will get the chance to meet second/third year students willing to answer all of your questions. Our study group session will take place on the 18th October in Wijnhaven and open to every first-year IRO student
Join the first SPIL party this year and show off your spookiest costume on the 3rd november🎃👻 Buy your tickets at the cafeterias at FSW and Wijnhaven this week!
International Dinner will be arranged as a potluck, where participants are encouraged to bring a meal, snack, drink or dessert from their home country. You are of course welcome to participate even if you aren't able to contribute to the buffet. There will be plenty of food for all! Don't forget to sign up!
What comes next after elections?
Join us for a discussion about coalition forming and its impacts on day to day embassy life! We will be joined by Ine Mareng, Deputy Ambassador of Norway, Elisabeth Borger, Diplomat of the German Embassy, and Tom Louwerse, associate professor for Political science at Leiden. See you there!
On January 5th we had our first "SPIL the tea hour"! During these hours SPIL'ers can join us in kaltura to ask any question, have a chat or play a fun game
We had this tea hour every Tuesday from 16:00 till 17:00 during the whole month of January
 From February on we will have it twice a month!
We got to socialize and know each other a bit better, during this online masters activity!
On December 1st we had an online event co-organized by Amnesty International Nederland and the University of Amsterdam which SPIL members could join as well ✨

The event took stock of the most recent developments on how to promote and defend the Rule of Law in the EU 🇪🇺

We had a moderated session with Judith Sargentini and Benedek Jávor former MEPs and with Professor Sarah de Lange, who is an expert in populism in Europe and comparative politics.
Tuesday the 3rd of November, we had a pre-election event
We started at 19:00 when a US Diplomat joined us and told us more about the elections. After that, at 19:30, we had a livestream with the US Embassy which was hosted by Willem Post
The live streams took place on Facebook 
Unfortunately, the changes to the COVID-19 measures made it impossible to host the Madurodam excursion and the after-exam borrel with CIROS on Friday the 23rd of October. However, the Festive committee came up with an alternative! Friday evening (23rd of October) from 21.00 onwards, the Festive committee organised an online borrel via Google Meet in which they played some (drinking) games and hosted a giveaway! All SPIL'ers where invited to join and to chill with us after the exams! Committees could also score some more committee points! ✨💛 
On September 16th the board organized the SPIL's very own waffle (and yearbook) delivery service! Usually, there would have been a waffle hour in the common rooms of both Leiden and The Hague. While both rooms were closed due to COVID-19, the board got creative and decided to deliver waffles to the doors of many SPIL'ers. 
Sign up for First Years Weekend
We are delighted to hear that you applied for the BSc International Relations and Organisations, IP or Politicologie at Leiden University. Every year, the SPIL organizes an "EersteJaars Weekend'' (Freshmen Weekend). We would like to invite you to join us on the EJW 2020, which will take place online from the 4th till the 6th of September. During this weekend, you will get ample opportunity to meet and bond with your new fellow students. You will also learn more about the SPIL and the different ways you can take part in our study association.
Just like previous years, the Freshmen Weekend promises to be an unforgettable experience. The Committee is working hard at this very moment to give you and your fellow students the best possible experience, organizing activities that will allow you to get to know everyone on the Freshmen Weekend, so you can be sure that you will see some familiar faces during your first day at university! You will quickly get to know all aspects of the SPIL and hear about the different committees you can join.
We hope you will take this chance to start off your time as a student in Leiden / The Hague in the best way possible! You can apply for the Freshmen Weekend by visiting our website: https://spilplaats.nl/event-sign-up-2/. There you will find an application form which you can fill in. Don't wait too long! There is a limited amount of spots available.
We would have loved to take you on a Company Hop through The Hague, however, our plans had to change due to the current pandemic and so we thought we would take you on a virtual Company Hop instead. In the following days you will be presented with four companies that are located in The Hague, maybe you will find one that suits your interest and apply for an internship or consider it as your first employer out of uni!
Skills Sharing Blog: BloggedUP
What are your tips and tricks studying at home? How to you plan your time and structure your day to be productive these days?
We are currently busy creating a blog with all the faculty's study associations, where students, teachers and staff can share their tips. This way we want to create a knowledge platform where best practices can be exchanged.
If you would like to contribute, please send your text to fsw.blogged.up@gmail.com. The text should be around 150-200 words. If you would like you can also send a picture that can accompany the text.
Should you have any other questions, feel free email or text us!


Brussels Excursion:
Are you able to take on a challenge? You can soon apply for the Brussels committee! Being part of the Brussels committee, you get the opportunity to organise a two-day excursion to the heart of the European Union in November for your fellow SPIL'ers to join. You will be responsible for the whole trip from start to finish including the transport, the stay, the program and the promotion of the excursion. You will work together and organise relevant and interesting formal meetings. You will finish your time as a committee member with a fantastic trip to Brussels. If you have any questions regarding this committee please send an e-mail to globalrelations@spilplaats.nl!
Lustrum:
In two weeks, the applications for the Lustrum committee will open! Are you ready to take a seat in an amazing committee that will organize a series of unforgettable events in honor of the 8th Lustrum? Then this is your chance! After you have applied you will be asked to submit a letter of motivation which does not exceed two pages and in which you at least include:
– A little bit about yourself
– If you would want a position as chair, secretary or treasurer and motivation for this
– Why you want to be a part of the lustrum committee
– Why you would be a good committee member
– An original idea for a lustrum activity
The Lustrum committee is an exceptional committee; it only happens every 5 years and it has a little bit of everything in it. The activities can range from debates to parties, from a cantus to lectures, and so on! If you have any questions concerning this committee or the application procedure, please do not hesitate to send an email to: president@spilplaats.nl!
Weekly Instagram Games with Noor
Every week on Tuesday evenings there will be online games via an Instagram Live! Best part of it all, you can win points for the committee cup and make your SPIL experience more memorable! Tune in every Tuesday during this long and hopefully not so boring quarantine. 🎲
We miss our monthly borrels in Leiden and The Hague, but it can be just as fun from your couch! Make sure you have some drinks in stock and join every Thursday to chat with your fellow SPIL'ers. 🥂
Online Debate: Obligatory Military Service
Hopefully everyone is staying safe indoors and has not reached the point of complete boredom yet! Starting Saturday the 28th at 2pm will be a debate on Obligatory Military Service. It will take place on Kialo, however a link to the debate will be placed here. You can add your opinions and thoughts on the topic and see what others have to say! Don't worry there will be no video or recording on the website. 📒
Join us March 30th for a visit to the ICJ, the peace palace here in The Hague. The event will start at 10 and will finish about 11.30. There are a limited amount of spots available so sign up now! You can do that here. 
If you would like to improve your public speaking skills and finally work on overcoming your fear and anxiety of speaking in front of a large group of people, then come to our next workshop that we have organized in collaboration with Leiden MUN Society! It will take place Thursday the 12th of March from 16-18 in Leiden (FSW, SA07).
MASTER MEET & GREET: FOR BOTH DUTCH AND INTERNATIONAL STUDENTS!
Get to know your potential employers! On Wednesday 11 March from 14:00 – 16:00 B.I.L. and SPIL partner up with different organizations to introduce you to several firms that could help you to take the first step in your career.

There will be various private and public organizations present that give you the opportunity to get to know them better! So, if you are interested in getting a job or just want to network with employers drop by at the Wijnhaven Brasserie!
Come party with all the faculties from the university on March 11!I It's going to be a fun evening. Tickets are €8,- and you can get them by transferring this amount to SPIL NL61ABNA0429270828. Please fill in both your full name and 'INFAFE' in the description. IMPORTANT: Once you have payed you will need to pick up a wristband from the common room or you cannot enter the party!
Last night the SPIL Weekend destination was revealed and we are going to TEXEL!! It's a cute, typical Dutch island very north. The weekend is open to all SPIL'ers so don't hesitate to sign up March 16th at 12.00 at spilplaats.nl. The trip is May 1-3 and will cost you €63 which includes transport to and from the island. Mark your calendar and we hope to see you there!!