Dear SPIL'ers 
How and where do I start? I have so much I would like to tell you guys but let's start with my introduction. 
Ok how can we make this interesting? So, my parents decided to name me Samara Ahmad, but I like when people choose their personal nicknames for me. I am 21 years old, half Pakistani and half German. Currently in my second year of IRO and struggling to not drown in my laziness. 
I joined SPIL in my first year without knowing that I am going to join the board this year. I started my SPIL journey by joining the introduction committee. A committee that is very close to my heart because it gave me hope of socializing and helping every struggling first year to enjoy a little bit of fun. Never thought that this small but mighty committee would encourage me to do more. In times of despair and hopelessness SPIL events were the only thing motivating me to not just terminate my studies. I met so many wonderful people in this journey through SPIL. 
I am a person with very different and contradicting characteristics. I love being open-minded and active but sometimes, as you guys might relate to me, I just want to lay down and stuff myself with snacks. I am a personality which everyone can relate to in some way, and I can relate to most of you.
I am also passionate about a lot of things like food, music, and emotions. I live everyday as the main character in my life. I experience things in my life very intensely and due to that my life never gets boring. I am also someone who sticks to principles. Principles are a very important part of my life because they make it fair and organized and last but not the least are my most favorite thing food and music to which both I can happily dance to and cry while doing it. Especially spicy food is my number one.
I am extremely happy to be the President for the 41st board of SPIL. I can't wait t fulfil my duty and meet amazing new people. Lets make SPIL a place for everyone and achieve the best we can!
Contact: president@spilplaats.nl
Hey SPILers! Mijn naam is Yesim Benli, ik ben 20 jaar oud en derdejaars International Politics student. Dit jaar volg ik de minor conflictstudies aan de UvA, in de hoop mijn kennis over conflicten in de wereld te verbreden. Hoewel ik in Nederland ben geboren, komt mijn familie eigenlijk uit Turkije, waardoor mijn interesse voor politiek buiten Nederland is gewekt.
Verhuizen naar Leiden was een grote stap voor iemand die in een klein dorpje in Brabant is opgegroeid. Maar als ik nu terugkijk, was het de beste beslissing die ik ooit heb gemaakt. Vanaf de eerste dag ontmoette ik de meest geweldige mensen en voelde ik me meteen thuis bij een geweldige vereniging genaamd SPIL. Ik had de eer om in mijn eerste jaar voorzitter te zijn van de introductiecommissie en vond het het eerste jaar erg leuk om activiteiten te organiseren. In mijn tweede jaar begon mijn liefde voor de PiP-congrescommissie. Ik ben zo dankbaar voor de vriendschappen die ik hierdoor heb gemaakt. Om deze reden ben ik nog enthousiaster om als commissaris aan de slag te gaan met de commissie en ik hoop dat het dit jaar nog groter en leuker kan worden.
In mijn vrije tijd speel ik graag piano en luister ik graag naar muziek, ben ik graag creatief bezig, shoppen of een drankje doen met mijn vrienden. Laten we hopen dat alles weer normaal wordt, zodat we zoveel mogelijk activiteiten kunnen organiseren. Ik heb erg veel zin in wat dit jaar gaat brengen en ik hoop elke herinnering met jullie te delen!
Contact: secretary@spilplaats.nl
Dear SPIL'ler
Let me introduce myself to you                                                                                I look very much forward to this year, I hope you too                                         The next treasurer of SPIL I will be                                                                           I will be spending a lot of money just wait and see                                             I'll take care of everything money related                                                               To that this year I'll be very dedicated                                                                     This year is going to be a busy year for me at school                                           Still , to pass my political science courses would be cool                                   There are many other things that I do                                                                     Such as being member of DAC and the owner of @partij_em to                   What's special to me you may like to know                                                           My family, my dog, my friends and skiing in the snow                                       I hope to be a well-respected treasurer this year                                                 And once in a while I drink an ice-cold beer                                                         Well, our getting aquainted time is about to end                                               So even though shy, I'd like to be your new friend                                               You're always welcome in our common room                                                   You may always stop by no matter with whom
Contact: treasurer@spilplaats.nl
Commissaris Onderwijs en Politiek
Hoi! Mijn naam is Marit van der Heide en ik ben een tweedejaars politicologie student. Ik ben opgegroeid in Leiden, dus ik ken de stad op mijn duimpje en natuurlijk vier in elk jaar Leidsch Ontzet (3 oktober). Mijn vrije tijd spendeer ik graag met familie en vrienden. Dit jaar ben ik de Commissaris Onderwijs en Politiek bij SPIL. Ik zal dus vier commissies overzien: de Onderwijs Commissie, de Excursies Commissie, de Master activiteiten Commissie en Stairs Affairs. Daarnaast zal ik ook de boekenverkoop verzorgen. Ik hoop dat we een heleboel leuke activiteiten kunnen organiseren voor jullie dit jaar!
Contact: educationpolitics@spilplaats.nl
Commissaris Buitenlandse Betrekkingen
Hi SPILers!
My name is Juni, I am a 22.5 years old, and I come from the beautiful land far up north called Norway.
Some people think I'm a Viking, which is true. I love traveling, and that's why I am extremely excited to be in charge of the trip committees this year! I am sure we'll manage to organise some sick SPIL trips, no matter the format Ms. Corona demands us to adopt. This is my third year in SPIL, and my third year studying IRO, which means a lot of people are asking me what I am going to do next year. I have no idea, so you don't have to ask me about that when we meet.
Whenever I'm not studying, I like to listen to podcasts, work out, go for walks around The Hague or drink beer outside, and I can't wait to do lots of nice SPIL activities this year!
Contact: globalrelations@spilplaats.nl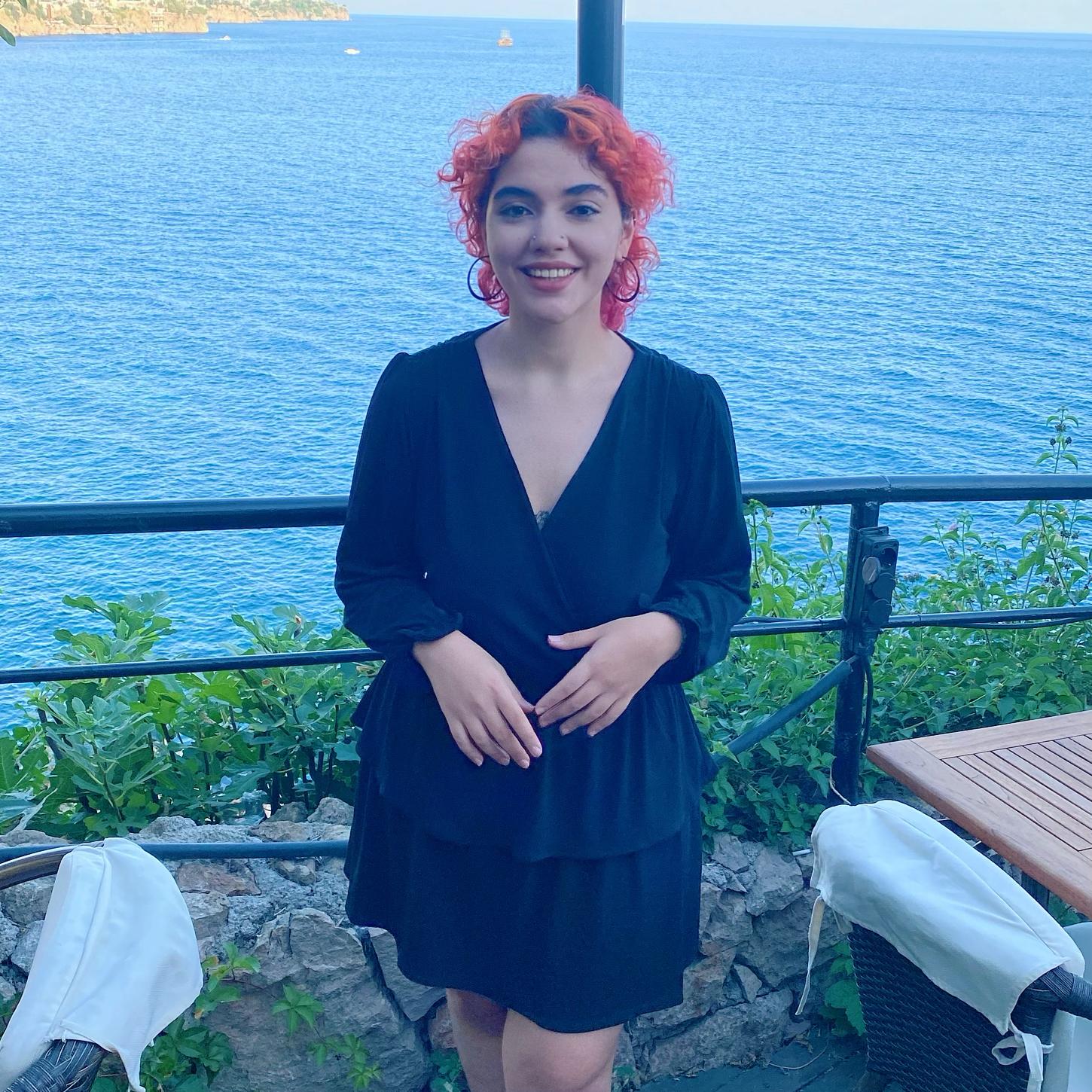 Hello everyone! My name is Ada and I am a 19 year old IRO second year. I was born and raised in Turkey. To those who know Turkey: I was born in Istanbul, then moved to Antalya, then Izmir.
Last year, I was the chair of Festive Committee. During the COVID year, it was rather hard to navigate but I still had a ton of fun. SPIL made me feel connected to my university at a time where I couldn't even see my campus. I felt part of a community and applied for board to make sure everyone else gets to have that feeling.
Next to SPIL, I am obsessed with sitcoms, drinking basically anything from Starbucks, true crime videos on YouTube, singing, and spending hours scrolling through Tiktok on accident. I love spending time with my best friends, my parents, my cat, and my dog. I am so lucky to have them since they are both my source of entertainment but also my rock through tough times.
I am going to be the Commissioner Internal Affairs & Commissioner Festivities this year. I am so excited to go back to my roots and get back to writing after taking a break from it when I graduated high school. I am also excited to get back to Festive and finally organise the parties we wanted to so bad yet never had the chance to last year. I am looking forward to this year, and meeting all of you!
Contact: internalrelations@spilplaats.nl
Beste SPIL'er, 
Mijn naam is Josephine, ik ben 21 jaar oud en begin aan mijn vierde jaar Internationale Politiek. Toen ik aankwam in Leiden leerde ik SPIL kennen door het EJW en de maandelijkse borrels op donderdag. Afgelopen jaar ben ik aan de slag gegaan als voorzitter van de Lustrumcommissie. Door Covid-19 werd het lastig om iets te kunnen vieren, dus ik hoop dat dat dit jaar wel kan! 
Ik ga dit jaar aan de slag als commissaris Acquisitie, Promotie en Lustrum, en ik hoop dat ik samen met deze commissies mooie dingen mag neerzetten.  
Verder, ben ik iemand die niet vies is van een drankje op z'n tijd, aangezien ik ontzettend houd van gezellige avonden met mijn vrienden. Andere hobby's zijn hockeyen, naar de platenwinkel gaan en uren kletsen met familie en vrienden. 
Hopelijk krijgen we dit jaar de kans om elkaar te leren kennen tijdens een van de vele evenementen die we willen organiseren dit jaar, dus hopelijk tot dan! 
Contact: externalrelations@spilplaats.nl