This year we will celebrate the 40th year of SPIL as the study association for political scientists in Leiden (and The Hague)! This means that a committee has been installed to organizes all activities celebrating our eighth lustrum. The committee has been formed as follows:
Thomas Groenink             Chair

Rosie Reed                          Secretary
Kamiel Neeleman             Treasurer                                                
Frits Weyne                                                                             
Marjolein Nieuwenhuijsen                                                                      
Lara Akande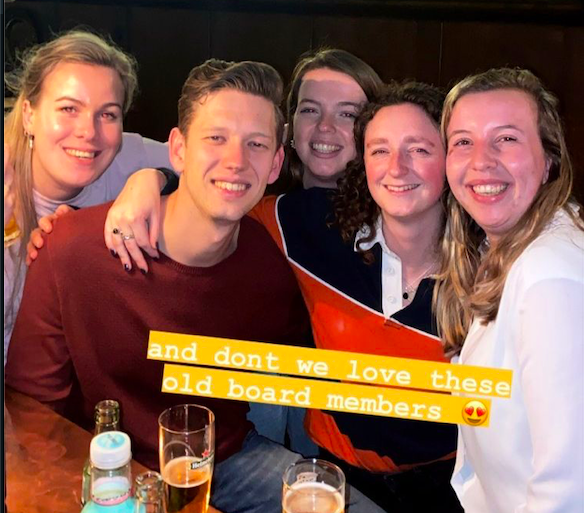 On the 8th of February 2022 we re-opened our Lustrumyear with a fantastic borrel! At the Vergulde Kruik, we drank beers and our very own SPILbeer! Further, we sang the SPIL-song written by Nicola Otten and Leonie Andriessen. On the rhythm of Stupid by Tess, they wrote our own personalized SPIL-themed song. The lyrics can be found in this document: https://docs.google.com/document/d/12z1OZ7CAB99WT0huymlukQENYBaaqXi0RHo3nJfDf-8/edit
The Lustrum Week will be from the 4th of April till the 8th April, and is filled with informal and formal activities, for SPIL'ers and non-SPIL'ers. 
On the 4th of April we will start of the Lustrum week with an openingsreception during the day! At night, a Beer Cantus will be organized, with unlimited beer and singing! 
The 5th of April, we take it a bit slow and start off the day in the Common Rooms, where everybody is welcome to chill and read the Lustrum Newspaper. At night, everybody is welcome to join the Movie Night at Pathé.
On Wednesday, you can show your talent during the Open Mic Night. if you are interested in performing, you can let us know by filling in this form: https://spilplaats.nl/event-signup/
An interesting Panel Discussion will take place at Thursday Night, where expect will talk about interesting political topics!
The week is coming close to an end, but not before we party all evening during the Lustrum Gala! Put on your prettiest dress or suit and join us celebrating the Lustrum Week with all your friends! 
Take a look at the instagram of SPIL and the Lustrum Committee, to make sure you don't miss any updates!
On the first evening of the Lustrum Week we will organize a typical Dutch tradition: a Beer Cantus. During this evening we will sing and drinks load of beers! But make sure you follow the rules, otherwise punishment might await. Sign up open on  the 21st of March, and a ticket will only cost you €7.50. There are limited spots, so make sure you are on time with buying your ticket! 
We hope to see you on the 4th of April at STV Qravel for the Beer Cantus. 
On Tuesday we start the day off calmly in the Common Rooms, which will be open all week to look back at the previous day and to look ahead to the rest of the week. In the evening it is time for a movie night at Pathé Buitenhof. Here we will watch a politically relevant film, The Mauritian. A film about the true story of Mohamedou Ould Slahi, who was arrested by the American government for the 9/11 attacks and imprisoned in Guantanamo Bay without any form of justice. For €4,- you can watch the film, the price includes a drink and popcorn. Afterwards, there will be a borrel to discuss the film and have a drink. 
On Wednesday it is time to discover the musical talent of SPIL'ers at the Open Mic Night. You will get the opportunity to sing a song, play an instrument, tell a poem and more! Afterwards it is time to give both the nightingales and less beautiful voices the chance to sing karaoke! Everyone is welcome to join. If you want to perform you can let us know by filling in this form. 
On Thursday there will be a Panel Discussion on the rise of China, with interesting speakers: Ingrid d'Hooghe, Ron Keller, Danny Pronk and Jue Wang. During this panel discussion, the experts will talk about how they ended up in this field of interest and what their work entails. They will also discuss the subject and you will have the opportunity to ask your questions. 
Of course, the Lustrum Week cannot be closed without a Lustrum Gala. In the Kurhaus, Scheveningen, there will be a big party from 21:00 to 01:00 to celebrate the Lustrum one last time. Get out your dress or suit, put on your best shoes and party with us. A ticket for SPIL'ers costs €35,- and for non-SPIL'ers €40,-. This includes drinks and snacks all evening. There will be a small surcharge for transport back to Leiden.